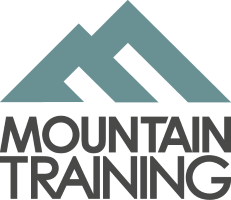 Having around 20 years experience of hill and mountain walking in the UK, (predominantly Snowdonia & the Lakes), I was keen to become qualified so that I could lead groups of people confidently, allowing them just to enjoy their surroundings and to not really have to worry about navigation. I have a military background (British Army, Royal Engineers) so can work very well within a team of people or just as well individually. Post-Army, I've generally worked in customer services/office based roles, so I'm now really enjoying the freedom to be outside in the places I love and using my inter-personal skills gained from this.
Since having my MLS, I have really enjoyed getting out in the hills and getting paid at the same time! I have met and continue to meet so many fantastic, like-minded people and have made many new friends. The ML has opened many doors for me that were previously shut :)
I have trekked across Corsica on the GR20 independently with my wife in 2016 and in the Nepali Himalaya (also independently with my wife) in December 2017. I am about to set off to walk the UK Coast to Coast (St Bees to Robin Hoods Bay) completely independently, alone and camping for most of it.
I have recently completed the RCI training and look forward to hopefully getting that completed/assessed soon. I am heading off to Bangor University full time in September 2019 to study Clinical and Health Psychology (BSc) during which I will continue to work and play in the mountains I love.
Also a very keen fell/mountain and ultra-runner, I enjoy moving fast and light in the mountains.
When I'm not running or mountain walking, I'm also an avid road cyclist.