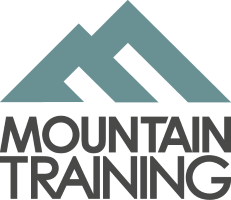 I have been rock climbing since my mid-teens and was walking the hills around Wharfedale before that. We were largely self-taught and were doing some scary routes on Cloggy and elsewhere by the time we were 17. Since then, I have come to winter mountaineering, climbed some bigger peaks and trekked in six continents.

My 'home ground' has grown from the Peak and Pennines to the Lake District and Snowdonia and now I live on the edge of the Scottish Highlands.
I have made a career as a professional geologist, specialising in landslides and high mountain geohazards. I have been lucky enough to work as a geologist in the mountains of Nepal and Peru, as well as in the Middle East, Far East, Europe, Africa and the Caribbean. For me, there is a strong link between mountaineering and its geological setting and I try to bring these together when leading groups.
I have obtained the ML, IML and WML as a way of passing on my knowledge and experience to others. The greatest reward is from supporting people in achieving something that they thought was beyond them. The aim is always to provide an enjoyable learning experience by means of an adventurous day.
I currently lead international groups walking in the UK, school geology trips mostly in Iceland and supervise Duke of Edinburgh groups.