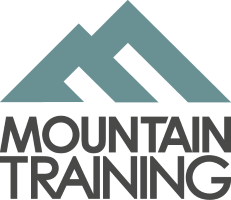 My first taste of the mountains was doing Bronze DofE Award in the Black Mountains in South Wales in the 1970s. I don't mind admitting that I found it tough, and as I approached the finishing point on the Assessment expedition, I made a silent promise to myself that I really didn't need to repeat the experience. But a healthy bit of peer pressure had got me dragged into Silver. Then Gold. By then I was hooked, especially having had a taste of the ruggedness of Snowdonia in the process.
I joined the Army, and the opportunity to try rock-climbing came up. It seemed the obvious progression to me, and back then that was 'the' normal pathway into climbing and mountaineering. A variety of courses, meets run by the Army Mountaineering Association, and the opportunity to participate in expeditions to far-flung corners meant that by the time I left the Army in 2001 I had done a huge variety of mountain activities all over the UK, Europe and the world. I also completed the Summer and Winter ML awards at the start of the 1990s.
A change of career to an exclusively indoor line of work meant that I wasn't out and about as much as I once had been, but I continued to climb regularly from my new home in Yorkshire. This included some local gritstone climbing, but it was always the bigger mountains that attracted me and so I tended (and still do) to climb more in Snowdonia, the Lakes and Scotland in the winter. There were trips abroad too, of course - Norwegian ice, Mediterranean sports climbing, and Alpine mountaineering.
Now, I have made another career switch into professional mountaineering and climbing, enjoying sharing what has been my passion for over 30 years with those just starting out. Over a period of time I have qualified as both an International Mountain Leader and Winter Mountaineering & Climbing Instructor, and the openings created by those awards are now the mainstay of my work.