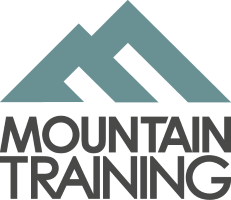 My first outdoor activities were with the Scout Association and I owe a great debt to my Scout Leader (Walter Ludlow or Mr Lud has us Scouts called him) for introducing me to the mountain environment in South Wales all those years ago. We had some great trips and a few 'epics' too but his passion for journeying in the mountains certainly had a profound effect on me which lasts to this day. I gained my Summer ML back in 1995, my SPA soon followed as some kind people introduced me to climbing (the Steve's). The Winter ML and International Mountain Leader followed in 2008 and I'm sure that Mr Lud would have been as proud of my achievements as I am.

I know work fulltime in the Outdoors running my own company Chris Hughes Multi Activity Services (CHMAS) and helping others to have adventures is simply the best job in the world. I have lots of found memories - seeing the sunrise over Snowdon with a group of scouts, my first Golden Eagle when winter climbing in Scotland, sitting on the summit of Dufourspitz in the Alps having a second breakfast (or was it a third) and the celebration at the top of the crag for my first VS4c climb on peak gritstone.

I have been fortunate to work with some fabulous clients (young and old), made some pretty special friends (Big Kev, Greg, Bob, Vernal, Rob and Big Nige) and hopefully I'll make a few more as I continue my journey in the mountains. If you seen me out and about then please say hello and we can share a tale or two as we pass.

I'll leave you with a quote from Mr Lud when I used to complain about the wind and rain and one which I use when out with my groups.

"The wind and rain are our old friends - I wish we didn't see them as much as we do - but they are still our old friends nonetheless"