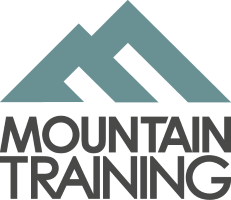 My love of the mountains began as a young Scout in Wales whilst still at school in Brecon. Cader Idris was my first big mountain and even today, it remains a firm favourite.
Shunning university I joined BP Tankers as a Navigator but continued climbing mountains whilst on leave from six month trips on oil tankers trading worldwide.
After getting married, I left the sea and we lived in Brecon before becoming expatriates in the Middle East and SE Asia for ten years. Every home leave would give me a few mountain days and on returning home in 1988, the Mountain Leader Award seemed the obvious choice for me and I duly achieved this.
Employment loomed with the Brecon Beacons National Park Authority in a much sought after Warden appointment responsible for access and conservation management in the Black Mountains in the east of the National Park. My work programme was quite varied but holding the ML, meant I assisted with management of the Guided Walks programme and also worked with our Education Team.
During my time with the BBNPA, I gained my EML (now IML) and Mountain Leader (W) awards - all in work time and at work expense which was a great bonus for me and AALA approved my in-house role as Technical Adviser.
During my years in Brecon I became a Trek Leader and then, Expedition Leader for several major UK adventure travel companies. I have been fortunate to lead trips to most of the world's great mountain destinations but now I've used up my allocated space......................