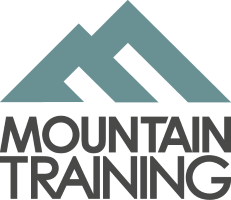 I was able to leave a 30+ year career in banking in 2011 to pursue a career in Freelance Mountain Leading courtesy of a small legacy from a late Uncle. Having walked for many years as a hobby in my spare time I had wanted to make the switch to making it a career for some time and decided to take the plunge after taking part in a couple of overseas Charity Challenge events (Machu Picchu 2010 and Jebel Toubkal 2011)
I did my ML Training at Plas-y-Brenin in 2011 and made the decision to buy into Striding Ahead LLP later the same year. Striding Ahead LLP was established in 2005 and I have known the other partner in the business for a number of years; he approached me after leaving the bank to ask if I wanted to join them.
Since early 2012 therefore I have been jointly leading Groups in many different areas and in addition adding my own QMD's and attending MTA courses and refreshers, finally obtaining my ML(S) qualification in early 2014.
I now undertake Freelance Leading work for other companies - in the U.K. and overseas - as well as continuing to work as a Freelance Leader under the Striding Ahead LLP name with our existing, regular clients.
As George Eliot once wrote - "You are never too old to be who you might have been"...!