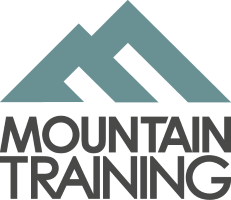 I bagged my first summit when I was 3, Moel Y Gest in N. Wales, just as it was my mum's first summit when she was a child! Since then I've spent a lot of time outdoors, in the mountains, on the rock faces, in the snow, down the rivers, lakes, the sea, in the caves and generally getting out and involved.
I followed the conservative path of school, followed by University, followed by an office job that challenged me intellectually and paid me well. I came to my senses in late 2013 when I became disillusioned with 'the rat race' and saw an increasing disconnection with nature, the physical world and with each other and an increasing, unhealthy connection with the digital world and digital relationships. I wanted to make a difference in the world and my passion for the outdoors and for positive change lead me to the Outdoor Education industry. I quit my corporate job in early 2014 and have been on a quest for experience, education, qualification and a deeper understanding of how to educate, inspire and empower people to make changes for the better ever since.
My qualifications with MTUK so far have helped me achieve my aspirations of affecting positive change in the world through outdoor education.
I absolutely love my job and love what the change has meant to me and the kids I work with.